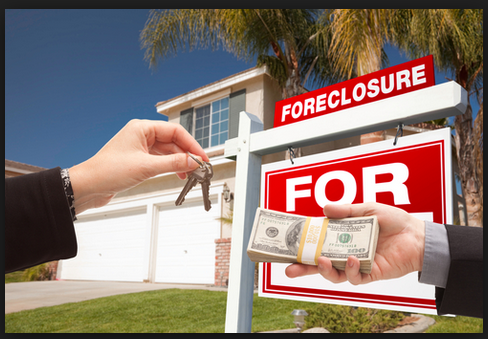 Buying Foreclosures
The most common type of foreclosure property you'll encounter in your home search is a Real Estate Owned, or REO property. REOs are properties that have been foreclosed and are now owned by the bank.REOs may be vacant or in need of repair. But often they look and feel just like other homes for sale, and they're listed by a real estate agent. Although they're typically sold as-is, it's not uncommon for an REO to be in move-in condition. But the process of buying an REO is different than other home purchases.

With the help of a qualified real estate agent who knows the terrain of the REO market, your REO transaction will run more smoothly – and you'll likely get a great deal in the process. Exit Realty 360 agents lead the industry in distressed property training. Working with an agent experienced in REO transactions will make the difference between a successful purchase and a frustrating, confusing experience. An REO property is one that's been foreclosed on and is now owned by the bank.
REO properties fall into two categories:
Move-in condition: The home is in acceptable condition and not in need of rehabilitation. You could buy this property and move in quickly.
Damaged: A damaged REO generally needs repairs and rehabilitation before you can move in. These types of REOs are attractive to investors and some buyers who aren't daunted by the work involved in rehabbing a property. Often, you will get a bigger discount on damaged REO properties, but you have to consider refurbishing costs.
Where can you find REOs for sale?
Banks are eager to sell and get these properties off their books. In most cases, they'll enlist an agent to clean up the property and list it for sale in the MLS, which means you'll find these properties listed alongside homes in the neighborhood that are being sold traditionally.
If you're looking to buy an REO, it's important to work with an agent who has experience with foreclosures. Many times the bank will insist on an "as-is" sale, and an experienced agent can help you work through your decision whether to move forward with the purchase based on the property's refurbishing needs
Pros of buying REOs:
• Often, you'll pay a below-market price for the property.
• The process is similar to a "normal" home purchase in that you can secure financing using a traditional mortgage. (Buying an REO property is nothing like buying a foreclosure property at auction with cash.)
• You'll be able to do inspections, purchase title insurance and secure financing before completing the purchase.
Cons of buying REOs:
• Many banks will require an "as-is" purchase, and if there are problems or necessary repairs, paying for them is your responsibility.
• Banks rarely accept anything less than the asking price. They've already done a lot of research to come to a price that makes sense for them. (Keep in mind that if most sales in your market are selling above asking price anyway, this point isn't necessarily a con for buying an REO property.)
• The process can take longer than a regular home sale
· REOs vs. Short Sales: What's the Difference?Open or Close
Here's something you might be wondering: What's the difference between an REO property and a short sale?
An REO property is one that has already gone through foreclosure and is currently owned by the bank, which is trying to sell it to a buyer.
A short sale is a real estate transaction that takes place when an owner owes more on the mortgage than the house is currently worth and the bank agrees to a sale for less than the full mortgage balance in order to avoid foreclosure. A property involved in a short sale is not bank owned.
The number of short sale transactions has increased in recent years, and you're likely to run into homes like this on the market as you view properties. As with REOs, short sales can be complicated, so it's extremely important to find a real estate agent who is experienced and specifically trained.
Short sales
With the number of short sales steadily increasing in many housing markets over the past few years, chances are high that you'll encounter this type of sale in your home search. Short sales are now common in many markets.

Or, you may be one of the many homeowners considering the short sale option for your home.

While at one time short sales were viewed as too complex and burdensome to deal with from a buyer's perspective, this isn't necessarily the case today.

With the help of an educated and experienced real estate agent, a short sale is not only manageable, but can result in a great deal on the home of your dreams. And for a seller who's facing foreclosure, a short sale can be the best outcome in a bad situation.

This material here covers the basics. But if you're going down this route as a buyer or seller, it's absolutely critical to work with an agent who understands short sales.

Quality Properties agents lead the market in experience and education, so you've come to the right place.
· Who benefits in a short sale?
In many cases, short sales present a proverbial "win-win" situation. Here's how:
Sellers avoid foreclosure and protect their credit from the harder hit of foreclosure.
Buyers receive a good price on the home.
Lenders avoid a costly foreclosure. The potential loss from a foreclosure is typically higher than a loss from a short sale.
· How it works
Say you owe $200,000 on your home and can no longer make the mortgage payments. One option is to refinance your home and secure a lower payment based on a longer term or better interest rates. But if your property has lost value due to local market conditions (say it would sell for only $150,000), refinancing isn't feasible. If the bank agrees to a sale at $150,000, it's called a short sale.
Although short sales have become more common in recent years, banks don't always grant them. In general, they approve short sales in theses situations:
Seller has a hardship (such as divorce, bankruptcy, unemployment, job relocation).

Seller owes more on the mortgage than the home's current market value.

Mortgage is in or near default status.

Seller has no assets.

However, different banks and lenders have different requirements. So sellers should discuss the short sale option with their lender.

Short sales can present a great deal for buyers. But the process is a bit more complicated than a normal home purchase, and it will take patience and help from an experienced agent.
hat to Expect When BuyingOpen or Close
Short sales often look like other listings in the MLS, except they may have a lower asking price than comparable properties.
The term "short sale" is a bit of a misnomer, though, as this type of transaction can take much longer to complete than a standard home sale.
The buying process is similar to a standard purchase. You still apply for financing the same way, and order inspections the same way, for instance. But complications in the selling process aren't uncommon, and you'll need patience and a solid real estate agent to deal with them.
The good news, though, is that times have changed. Many banks have streamlined their processes for short sales, making it much simpler and less time consuming for buyers and sellers. Market data shows that the time it takes to close a short sale has steadily decreased over the past few years.
Why you need an experienced agent
For many reasons, choosing a real estate agent who has experience with short sales makes a tremendous difference. An experienced agent may already have the right contacts within the lender's local office, and most likely has already helped buyers through the process
· Possible short sale hurdles an agent can help you navigate:
Second mortgages: These can pose problems because a second lender may not agree to the terms set between the primary lender and the seller.

Mortgage insurance: If the seller has mortgage insurance on their loan, the mortgage insurance company will need to approve the short sale.

Other liens on the property: A lien is a claim by an outside person or company on a property for money owed. Liens pose hurdles whether the transaction is a short sale or not, and will have to be addressed before the property can be transferred to a new owner.

Government-backed loans: If the home seller's loan was a government-backed loan, such as an FHA loan, this can cause delays and hurdles because the government will need to be involved in approvals.

HOAs: HOAs can present complications because the lender might not pay fees associated with the HOA transfer from the seller to the new owner. Your real estate agent can help put a plan in place for paying HOA transfer fees, document costs and any unpaid dues
· Working with an agent who understands the short sale process saves you stress and time spent dealing with obstacles that often come up along the way.

Get prequalified for a mortgage.

Get a home inspection, but understand that most lenders will sell only "as is." The inspection can help you decide whether the short sale price is reasonable, given the cost of repairs needed.

Understand who is paying the agent's commission and whether you have to make up any differences to your agent.

Submit documentation to the lender.

Have plenty of patience, but balance it with persistence. Keep in mind that banks have grown much better at processing short sales, which is good news for you
What to Expect When Short Selling Open or Close
A short sale often presents a good option for homeowners who are in danger of foreclosure or in default because of documented financial hardship.
The benefits of a short sale include:
1. A less severe hit to your credit history than what you'd experience with a foreclosure.

2. You continue to live in your house until the sale takes place.

3. In some cases, banks are offering homeowners cash incentives to do a short sale (to help with sales and moving expenses).
Because your credit history won't take as long to recover with a short sale as it would with a foreclosure – an average of two years versus seven years – the short sale option is great for sellers who want to own a home again in the near future.
Has your bank already contacted you?
Some banks have launched programs to prequalify homeowners for short sales. Through their records and housing data, they identify borrowers on their books who are in negative-equity situations. In this case, some are reaching out to borrowers in an attempt to further streamline the short sale process.
This makes it much easier for you, the seller, to proceed with a short sale.
Compiling your short sale package
Short sales require different paperwork than a normal home sale. In some instances, as mentioned above, your bank may have already qualified you for a short sale. In other cases, you and your agent will need to submit certain paperwork to your lender.
Your lender then decides whether or not to approve your request for a short sale.
Just what goes in a short sale package? Each lender is different, but in general, you will need:
HUD-1 or preliminary net sheet

Completed financial statement

Letter of authorization to let your agent speak to the bank

Letter that explains your financial hardship

Two years of tax returns

Two years of W-2s

Last two months of bank statements

Recent payroll stubs or other proof of income

Comparative market analysis or list of recent comparable sales
Keep in mind that banks' processes vary, and the above list is a general representation of what many will want to see
·New federal guidelines shorten the wait
Finding an experienced real estate agent to guide you through your short sale is extremely important. When interviewing potential agents, ask about experience specific to the short sale process in your area.
In the past, the notoriously long waiting game for short sales deterred many buyers from attempting them.
But times have changed. Many banks have streamlined the process and removed the barriers that have hamstrung short sales in the past. Some are even prequalifying borrowers to get the ball rolling faster.
In addition, federal guidelines have helped shorten the wait for mortgages owned by Fannie Mae and Freddie Mac. These are great changes for buyers and sellers, because it means there are regulations in place to help shorten the process.
A short sale may be a great option for you. The key is to find an experienced agent who can help you pursue the purchase or sale with confidence